Social and entertainments secretary Roy Eagles runs the Xmas lunch party which has gone from strength to strength since he took over.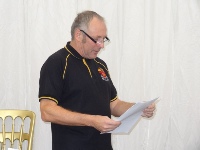 Starting with the City Bar before its refurbishment we moved to the BlueBrick (TableTable) restaurant off Sun Hill where Roy again welcomed star guests as friends. From 2018 we are back to the City Bar now refurbished and rebranded as The Grain Store
Menu here
Click on the pictures to go the page and for photos from the archive site
London Wolves 8th annual Christmas Lunch Saturday 9th December 2017.MENU and BOOKING
Venue: The Bluebrick, Wolverhampton. Time tbc - the train gets in at 11:37, so around 12:15/12:30. The Bluebrick will confirm later. Members only, plus guests. Price £20 (£22 if you want a Steak). There should be a glass of Prosecco to accompany the meal. There is also a child's menu for £6.99. It must be booked and paid for by Saturday 25th November (Bolton Wanderers match) with your menu choices (one from each of three courses) to Roy or Dave Slape, but please let Roy or Dave know as soon as you can if you wish to attend. The restaurant will need choices in advance for a party of this size. Unless Roy can resell a meal, payments won't be refundable.
STARTERS
Prawn & Crab Cocktail; served with brown bloomer bread and butter
Breaded Brie Bites; served with a mulled wine and cranberry compôte and topped with rocket
Mushrooms & Chestnuts on Toast; served on a toasted ciabatta and drizzled with truffle oil
Roast Parsnip & Thyme Soup; served with brown bloomer bread and butter
MAINS
Festive Turkey with all the Trimmings; served with roast potatoes, seasonal green vegetables, Yorkshire pudding, pig in blanket, stuffing and lashings of gravy
Grilled Salmon with a Crab & Prosecco Sauce; served with crushed potatoes and green beans
Roasted Root Vegetable Tart; served with roast potatoes, seasonal green vegetables, Yorkshire pudding, stuffing and lashings of vegetarian gravy
8oz Sirloin Stack £1.99 extra Topped with melted brie, streaky bacon and a grilled tomato, on a bed of creamed spinach. Served with chips
Brie & Cranberry Gourmet Burger, Succulent 6oz beef burger topped with brie and cranberry sauce, served in a sesame seed bun with a side of skinny cut fries and relish
PUDDINGS
Mince Pie Cheesecake; served with vanilla ice cream
Profiteroles; served with chopped cranberries and brandy sauce
Christmas Pudding; served with chopped cranberries and brandy sauce
Salted Toffee Apple Crumble; served with vanilla ice cream
Sundae made with Terry's Chocolate Orange®, Vanilla ice cream layered with orange and chocolate sauce, with Terry's Chocolate Orange® segments and topped with a whip of cream
* Please note dishes may be subject to change
KIDS £6.99
Festive Turkey; served with all the trimmings
Vegetarian Dish Choose from the following options; Quorn® Sausage & Mash or Tomato Pasta
Christmas Pudding
Ice Cream 2 scoops of vanilla ice cream served with your choice of raspberry, chocolate or caramel sauce
Fruit Salad