2014 - we have "Great Expectations" for the London Wolves walk this July 5th. Join "Our Mutual Friend" Geoff on a tour of Dickens' London and check out the many places where Charles Dickens lived and worked and used as the basis for many of his novels. Visit the site of the blacking factory where he worked as a child, the haunt of Fagin and his gang and see the clock which woke Scrooge in "A Christmas Carol". Also visit Dr Johnsons House, Londons oldest restaurant and Sweeney Todd''s barber shop - fortunately, we will not have time to stop here for a shave or a pie! For those of us who prefer to drink rather than walk
- the great majority, I think - there will be MANY opportunities to stop at interesting real ale pubs en-route, not a "Bleak House"
amongst them! So no excuses about being on "Hard Times", come and join us on Saturday 5th July meeting at "The Penderel's Oak", 283-
288 High Holborn, at 11am - or earlier if you wish as the pub opens at 8am - for a 12 noon start. Nearest stations are Chancery lane on the Central line and Holborn on the Central and Piccadilly lines
The starting point http://www.jdwetherspoon.co.uk/home/pubs/penderels-oak Our thanks to Geoff for the tour and the history lesson and notes
Well, the first participants arrived well before 11 for light Guinness or Titanic breakfasts - indeed some of the large Wetherspoons breakfasts were indeed titanic, just like the Iceberg beer.
Suitably prepared, other than Rob & Jen who were badly let down on the quality of the Eggs Benedict, our beadle, Geoff soon had us on our way to Melton Mowbray,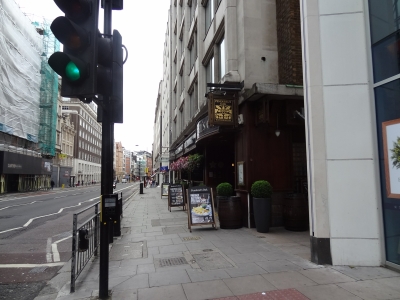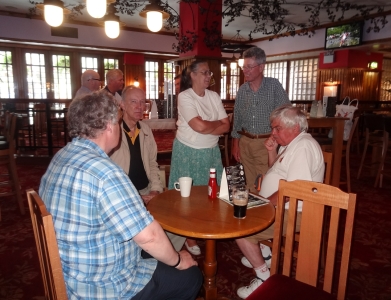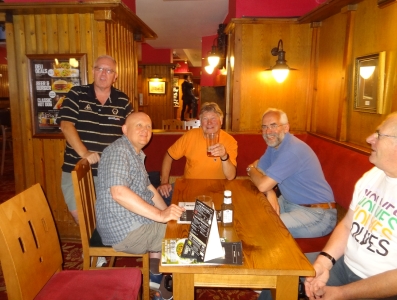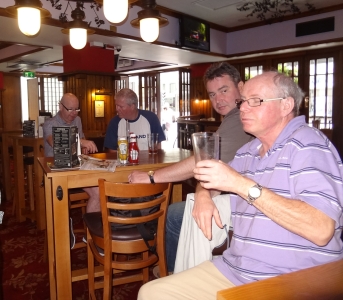 Paul decided not to stop for a croissant here before Geoff took us to Staple Inn which was featured in "the Mystery of Edwin Drood" and its magnificent Tudor facade dates from 1576, pre-dating the fire of London; It is one of the Inns of Court - which survived the Great Fire. And on the opposite side of the road the Prudential Building, built in 1878 ,replaced another Inn - Furnival's Inn - where Dickens lived when he first married and where his first child was born in 1836 as Geoff lucidly explained.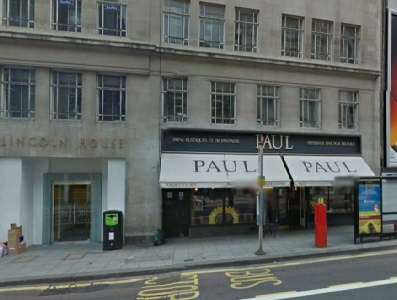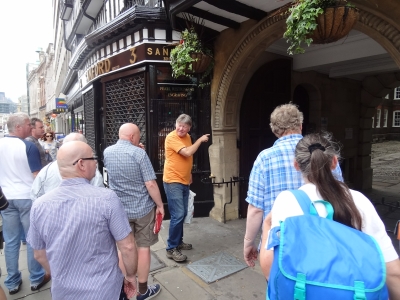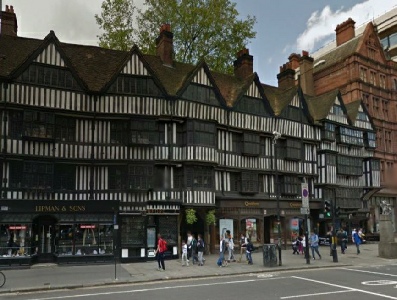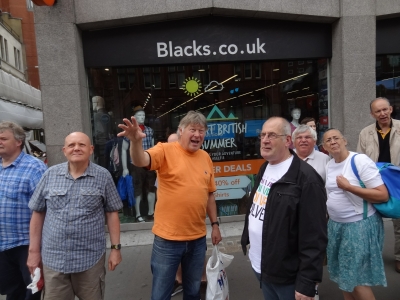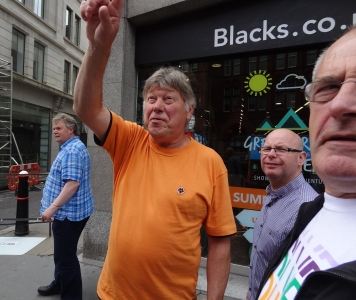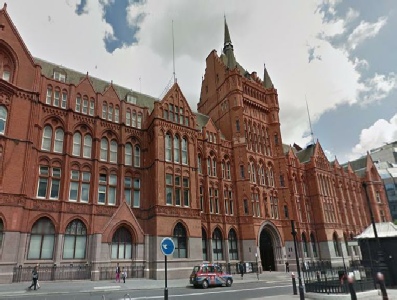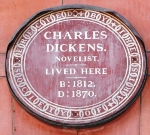 That seemed to be enough culture for a while so we rushed a few yards further on to the Melton Mowbray.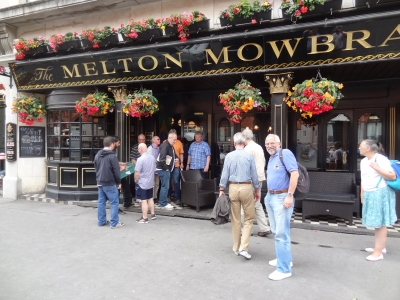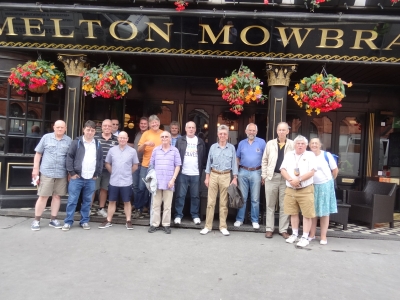 Matt gets the beers in, before we quickly move on.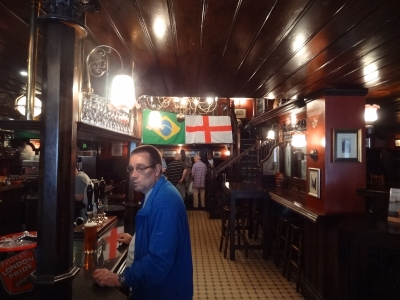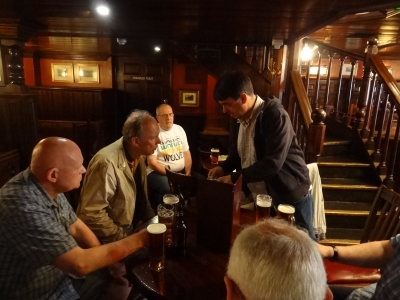 A few steps away Barnard's Inn was where Pip lived in Great Expectations, while the Wren designed church of St Andrew is opposite Thavies Inn (Bleak House) at Holborn Circus. The church's Court is held at No 7 on the way down to Fleet Street. A quick shower cooled us down but, fortunately another pub was at hand!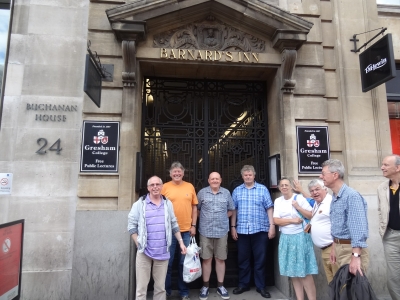 St. Andrew's Church also featured in "Oliver Twist" and is where Benjamin Disraeli was baptised (1817); Holborn Viaduct was formally a slum area with high rates of poverty and crime. Fagan and his gang lived here when Oliver was introduced to him in "Oliver Twist";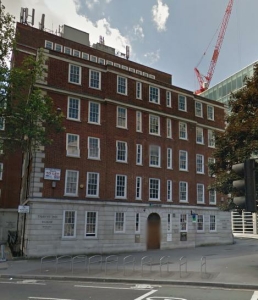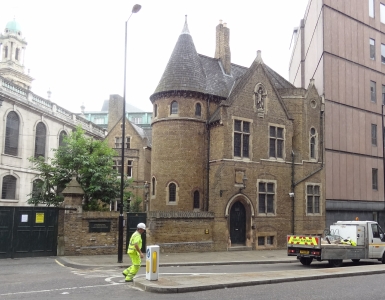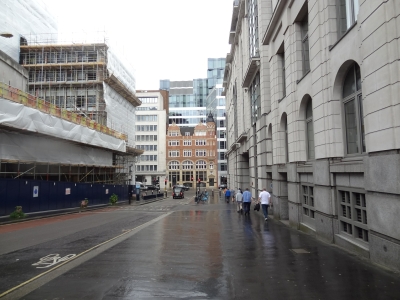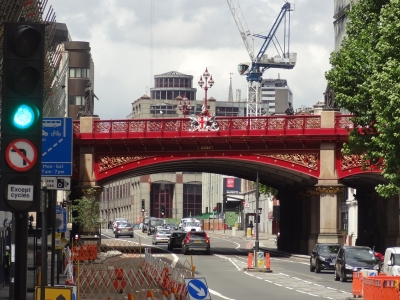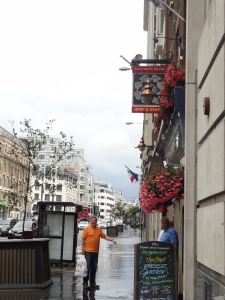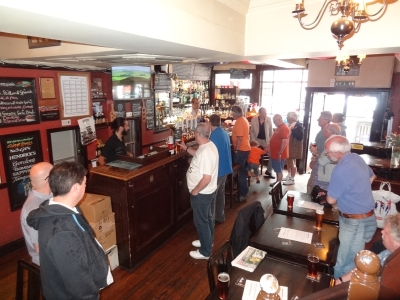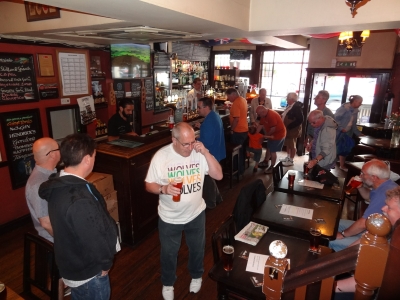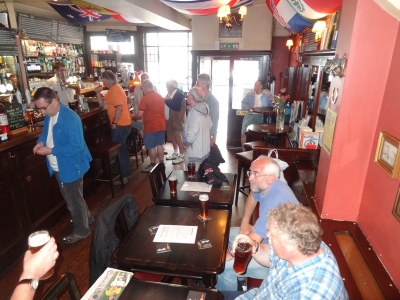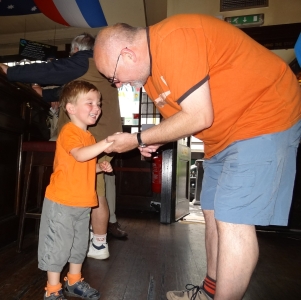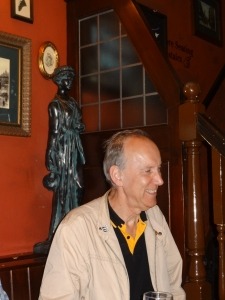 Then, off from the Hoop and a cut through Gunpowder Square with its very own cannon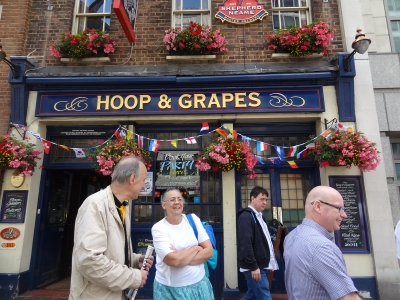 And our big cheese finds the Ye Olde Cheshire Cheese.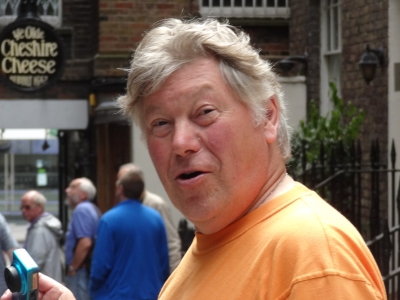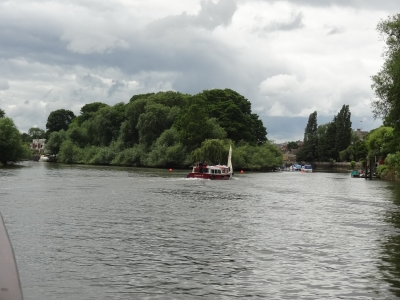 Paul declares a new resolution (which lasts about two minutes). The Ye Olde Cheshire Cheese was burned down in 1666 in the Great Fire but they have preserved some burnt timbers in the rebuild a year later. It has seen off a few monarchs! It featured in "A Tale of Two Cities" and was a favourite drinking hole of Dickens, Samuel Johnson, W.B.Yeates, Roosevelt and Oscar Wilde. It is supposed to be haunted by Johnson - Samuel, not Roger! While Pail pointed out his presence the lads went to the Gentlemen's Bar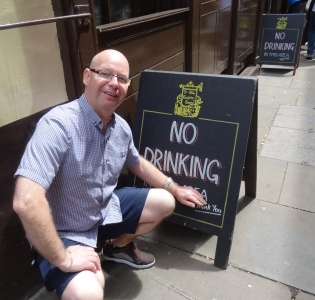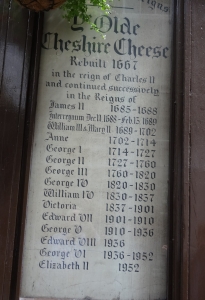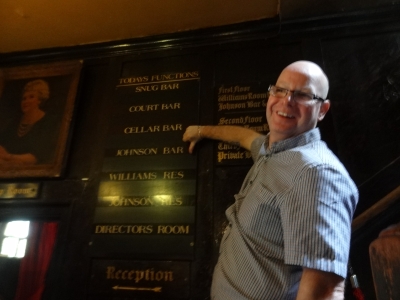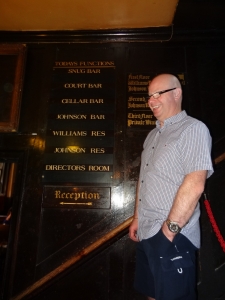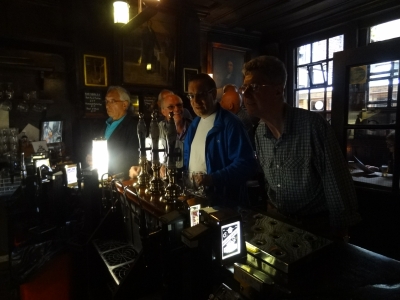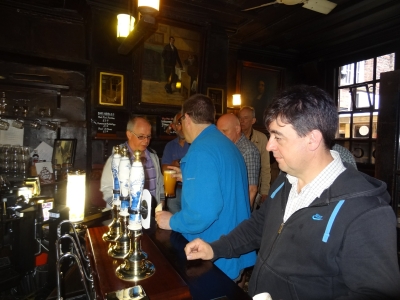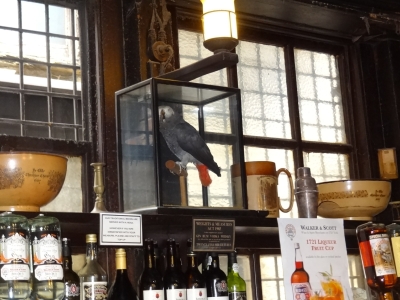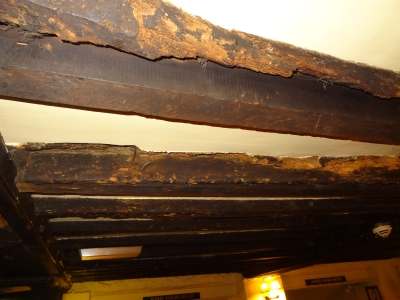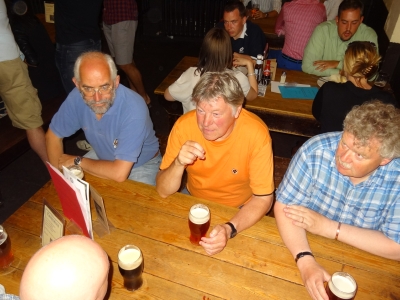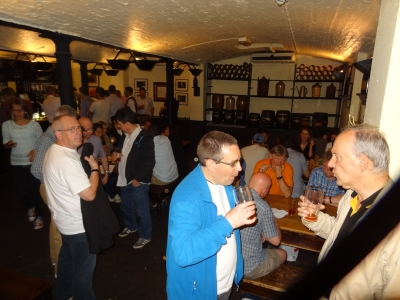 On to Dr Johnsons House where he wrote the first English Dictionary in 1755;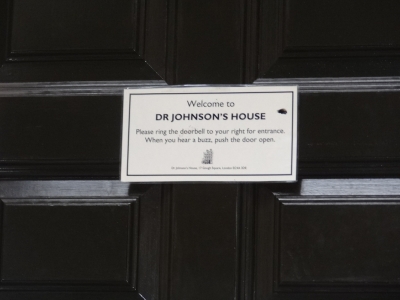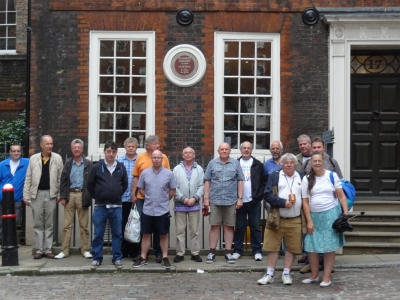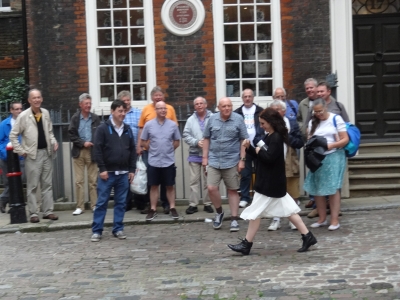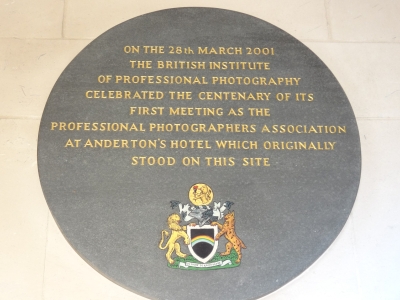 Back to Fleet Street and then Hen and Chickens Court - the site of Sweeney Todd's barber shop (The Demon Barber of Fleet Street);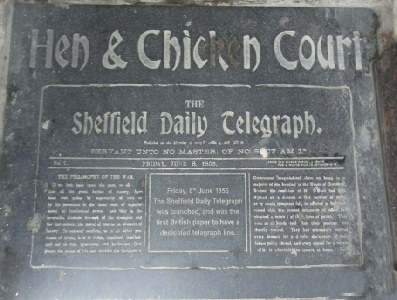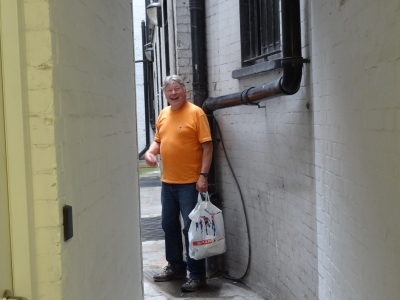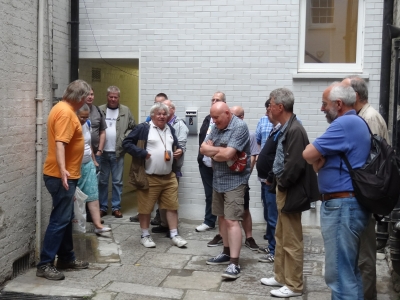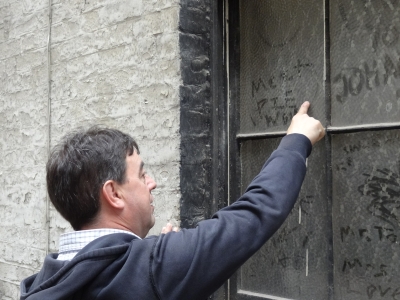 then off to Temple Bar, gateway to the City past St Dunstan in the West church with its giant figures of Gog and Magog and whose chimes woke up Scrooge in "A Christmas Carol". It was the first church in London to have a minute dial on its clock - 1671.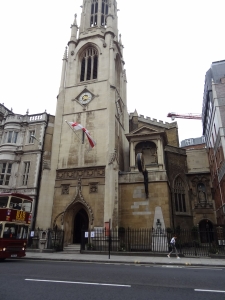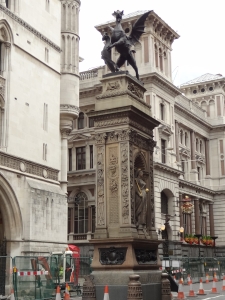 And then, opposite the Law Courts, to "The George" haunted by the headless ghost of a cavalier. The sign is supposed to show the
madness of King George the third; here they serve a really pale ale!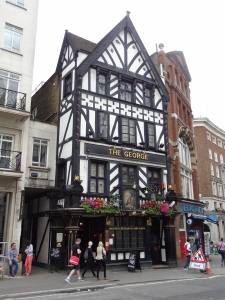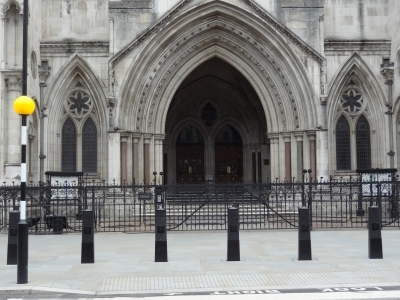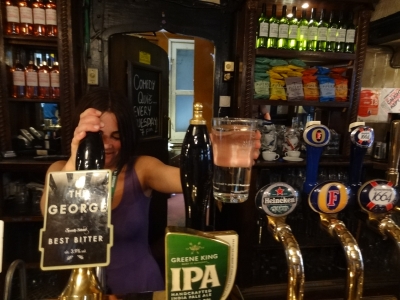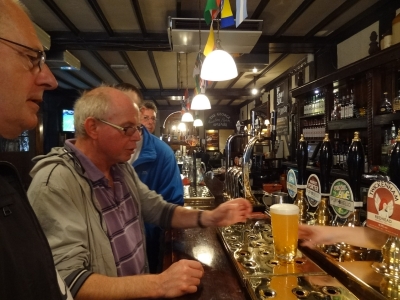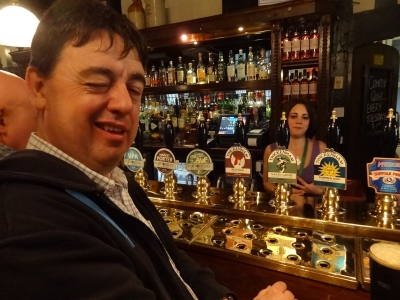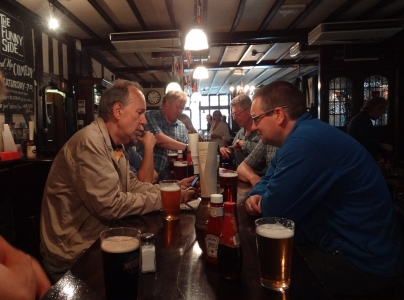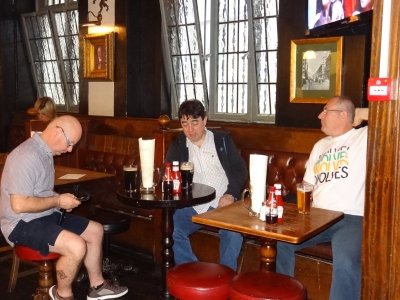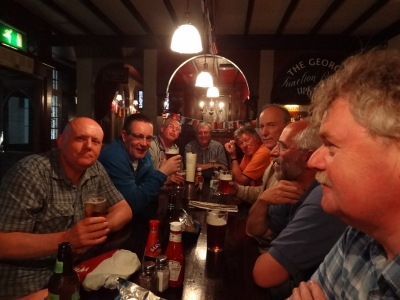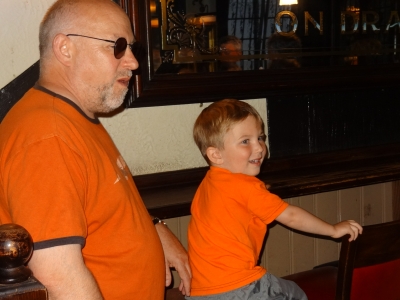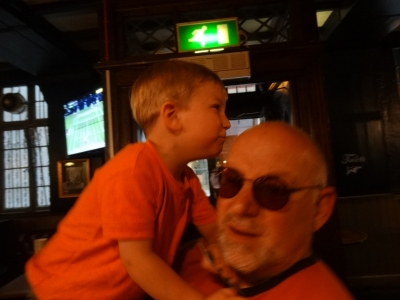 Time for Charley and Peter to depart as we set off past St Clement Danes built by Wren in 1682, the chimes of which feature in the nursery rhyme "Oranges and Lemons"; and on to The Old Curiosity shop built in 1567: What was more curious though was that we walked past a pub.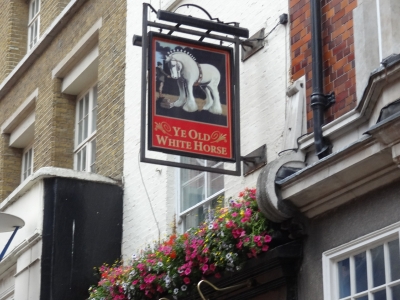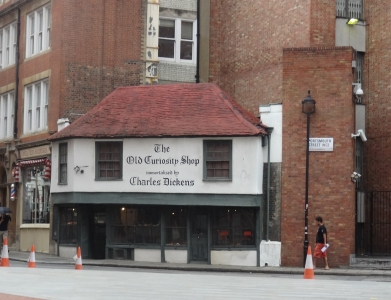 Back to the Aldwych and past the old BBC building and fortunately Molineux is not called Wolf Hall whee they bring up the bodies! A fw paces further on to the Duke of Wellington opposite Waterloo Bridge at the end of the Strand We also passed St Mary Le Strand church where Dickens' parents married in 1809; and near The Wellington pub was also the coffee house in Wellington Street where the "All Year Round" magazine was published by Dickens and where he lived in the 1860's;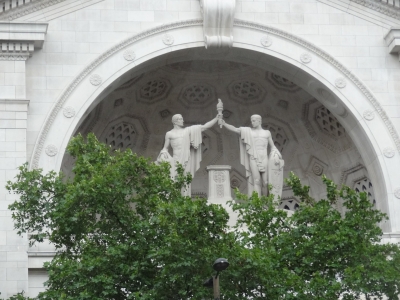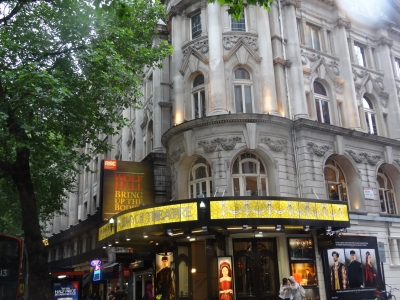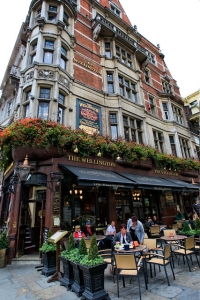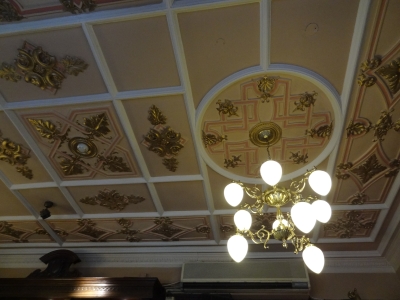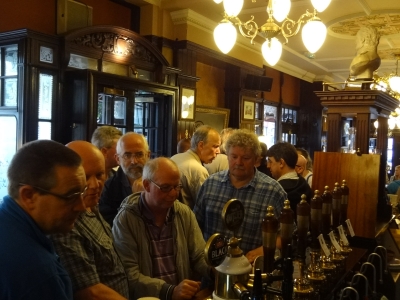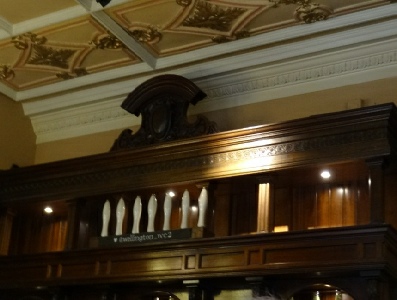 A brief chat with French football fans from St Omer on a day trip to London and the main party continued on to Covent Garden which featured in "Oliver Twist" as an easy place to pick up child pick pockets; Rules Restaurant - the oldest restaurant in London (1798) where Dickens, H.G.Wells, Lawrence Olivier and Charlie Chaplin used to eat; Then on to "The Harp" - we had an excellent pint of "Le Tour IPA" , Chandos - another Sam Smiths pub; Rudyard Kipling's House in Villiers Street; Hungerford Stairs - the site of the blacking factory where Dickens was sent to work as a boy. We had a pint in "The Ship and Shovel" -the only pub built on a split site in Britain, maybe the World;
Finally, we visited "The Sherlock Holmes" for a beer.
Elementary, dear Wolves fans.