LW Archives
You are respectfully reminded that all content on this website is subject to copyright and Wolverhampton Wanderers London Supporters' Club ("London Wolves") official website must be

acknowledged as the original source. Please contact the webmaster for permissions to use any content at webmaster@londonwolves.com All materials/designs on the website are © WWLSC. "London Wolves® is a registered Trade Mark.. London Wolves Ltd is registered in England No: 05329824 Registered Office: 100 Fairthorn Road London SE7 7 FW
LW Archives

The London Wolves Naked Ladies Walk, Saturday 29th June 2019.
A Twickenham Trek featuring a number of naked ladies*
Yes, its that time of year again when the London Wolves take in some culture ........ washed down with copious amounts of alcohol!
This year it is the turn of Twickenham to entertain the hoards of followers who normally attend the famous London Wolves walks. Home of England rugby, numerous poets and artists, the footballer of Loos, Eel Pie Island (a former famous rock venue), the inventor of the clockwork radio and, of course, those famous naked ladies, Twickenham is well worth a visit. Wonder at the beauty of Strawberry Hill House - an 18th century gothic castle - and Marble Hill House and gardens (built for Henrietta Howard the mistress of George the second) before moving swiftly onto the next pub!
So, if you have been tantalised or at all tempted by the delights of Twickenham, grab your sun cream and mankini/bikini - I know I will be bringing mine (the sun cream that is) - and head down to "The William Webb Ellis" Wetherspoons pub at 24 London Road Twickenham TW1 3RR for an 11-30 start on Saturday 29th June. The WWE is just 6 minutes walk from the mainline Station (turn left, past Waitrose, and the pub is what suspiciously looks like a bank)
Twickenham can be reached by frequent trains from Waterloo or by District Line/North London line to Richmond and a short mainline hop to Twickers.
* although before you get too excited guys, Geoff would like to point out that the ladies comprise of a few nymphs made of marble, or a beer with a luscious aroma!
Cheers,
Geoff.
Address The William Webb Ellis" Wetherspoons pub at 24 London Road Twickenham TW1 3RR for 11-30 google maps
members and friends will gather at Twickers for Geoff's latest Tour de Force.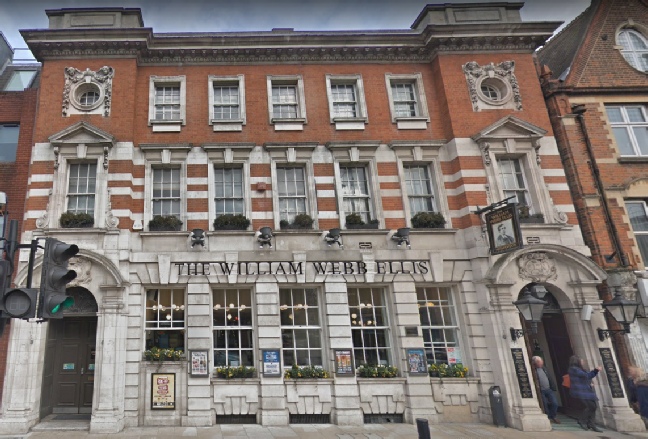 Now to the Antelope Tardis - huge pub with small frontage
No
I
Geoff's travel narrative: for what Matt Hawthorne identifies as our 25th anniversary walk
After a quick drink in the William Webb Ellis, I led the group down Water Lane to the Thames and the view across to Eel Pie Island where I talked about its history (rock groups, hotel, fires,etc) and present uses - 50 homes, 120 inhabitants, boat yards and art studios;
I then took them to St. Mary's Church and spoke of Alexander Pope (18th century satirist - famous for sayings such as "Blessed is the man who expects nothing, for he shall never be disappointed") who is buried in front of the altar. Thomas Twining, the tea merchant is also buried there. The name of Frank Edwards - footballer of Loos, who led a charge kicking a football towards enemy lines in 1915 - is on a bench and Billy Nevill - who did a similar thing at the battle of the Somme the following year - has his name on the war memorial. The Twickenham Museum opposite the church contains some of Popes' works and stones from the grotto he built underneath his house in Twickenham;
I then gave people the opportunity to visit Eel pie Island, the church and the Museum while I went to the Eel Pie pub (itself full of 1960's memorabilia featuring the island). Most people chose to visit the pub!
We then walked into York house gardens to see the "Naked Ladies" and hear my words of wisdom - people were very impressed with the naked ladies - and then on to "The White Swan" where we sampled a pint or two of the "Naked Ladies" bitter;
Onwards to Montpellier Row, via Marble Hill House and gardens (built for George the seconds mistress Henriatta Howard) to view the former homes of Tennyson, Pete Townshend (same house but now moved) and Walter De La Mere. Then a pint in the Crown.
Bus to Twickenham Green for a visit to "The Sussex Arms" - people could not believe it when I said the bus stops directly outside and it did - great pub with about 12 real ales on.
About 12 of us then made it to the "Albert" for a pint of ESB and some World Cup football!
A good day was had by all.
Geoff
Thanks to Mark Feehan, Pam Tetlow and Rob Goddard for the great pix
The Gang's all here and so are the naked ladies (MF)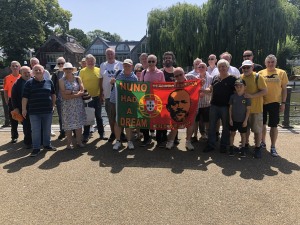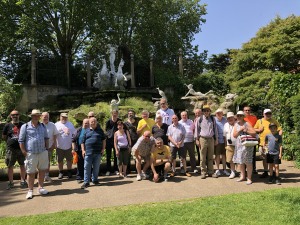 Pam's pubs
2 The Eel Pie 3 The White Swan 4 The Crown