Molineux gets its name from a wealthy French weaving family who first came to England in 1307. They settled in Wolverhampton, then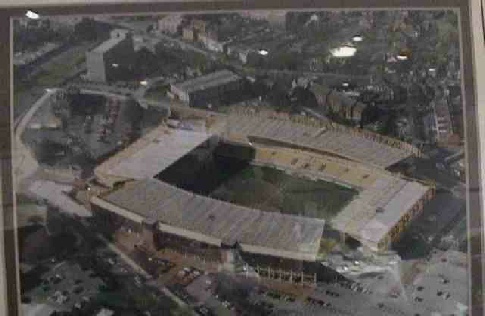 a major wool town. Their mansion they called Molineux house. The Wolves first played in these grounds in March 1886, and moved to the Molineux sports centre, now owned by the Northampton Brewery in 1889 playing their first league match against Notts County and winning 2-0. Dilapidated in the 70's and 80's the new Molineux funded by Sir Jack Hayward was opened by HM The Queen in June 1994. The current capacity is 29,400, a little lower than the record 61,315! Wolves are underging a substantial redevelopment starting in May 2011. The slideshow represents the demolition of the Stan Cullis Stand (The North Bank) and pictures from the demolition and plans for the redevelopment are here Slide show courtesy of www.molineuxpride.co.uk . Wolves hope to have (uncovered) 3000 seats available by mid September (planned capacity 7,700). More pictures of the demolition here http://www.molineuxpride.co.uk/wt/galleries/development and here is the demolition in time lapse http://www.wolves.co.uk/page/News/0,,10307~2377446,00.html
26th May 2003, after 19 years 13 days 22 hours and 20 minutes (as Trulls Mansson counts it) Wolves are again a top flight team, into the Premier League for the first time in their history. The trophy was proudly on display in the Wolves Trophy Cabinet at Molineux
But, if you want to step back in time to the 1920s click here or the 1970s click here
A fan's video of the North Bank c 1989-90
- 0
In 2011 the stadium redevelopment started with the North Bank Demolition see here http://www.molineuxpride.co.uk/wt/galleries/videos The London Wolves archive site has many pictures of this.
Previously named after one of the great Wolves Chairmen who presided over what was Wolves second most successful period ever, John Ireland, the East Stand was renamed after Wolves all time scoring legend Steve Bull during the 2003-4 Premiership Season.
Captain of England and Wolves, the great Billy Wright. His statue stands in front of the main entrance and the Billy Wright (West) Stand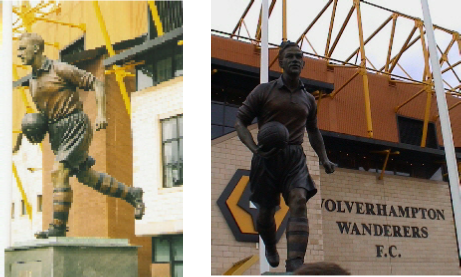 Molineux is also host to more than Football. Here are two London Wolves, Rob and Si, together with Sir Jack, President and benefactor, and with the manager who took Wolves into the Premiership, Dave Jones, just before Rob's wedding to Lin on 30th April 2004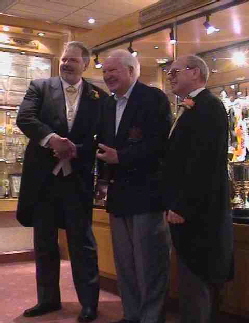 A player's eye view of the Steve Bull stand from the tunnel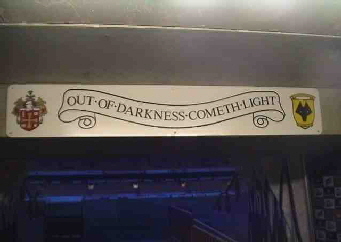 and here's the ground viewed from the Billy Wright stand just before the 2-2 home draw with Stoke on 11th August 2004 (see "news/other news"). On the left is the Stan Cullis stand (aka North Bank) and the Steve Bull stand prior to the 2011 redevelopment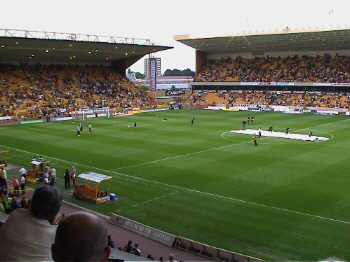 Some pix of Moli during reconstruction are here: http://fp.homesoffootball.f9.co.uk/wolverhampton_wanderers1.htm
In the 60's some interesting design concepts were put forward for a new stadium but it wasn't until the arrival of Sir Jack that the funds were available to modernise.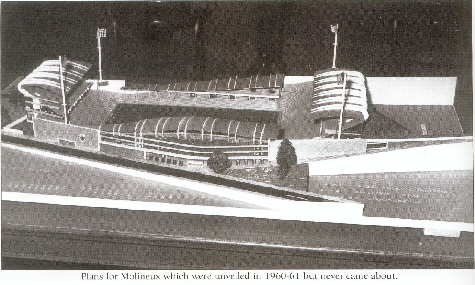 Here is the stadium layout: The Stan Cullis is also known historically as the North Bank and the Jack Harris, the South Bank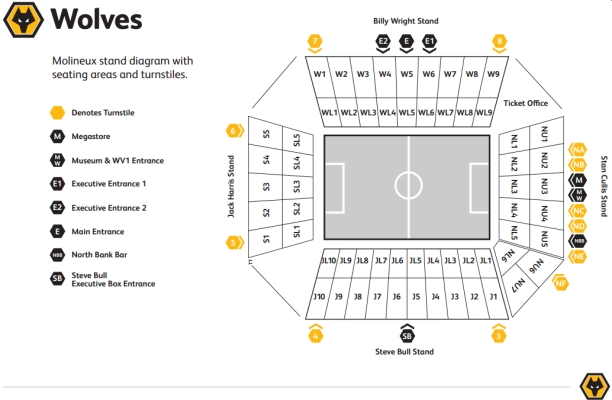 and here's how Molineux looked from the air in 1938.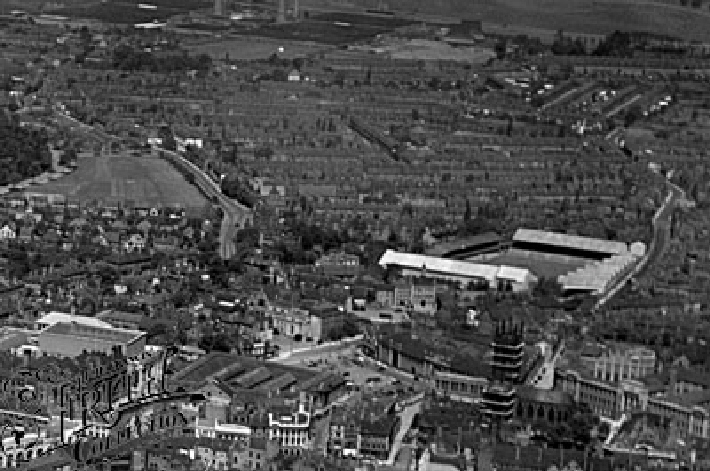 this picture is available from Francis Frith at http://www.francisfrith.com/pageloader.asp?page=/shop/prints/printSelector.asp&neg=AFR4234TR&collectionid=50&townid=W285&start=1&action=prevpho
For early pictures of Molineux we also recommend Stuart Clarke's Homes of Football website where you can buy excellent pictures from the past. To illustrate that here are some examples. On the www.homesoffootball.co.uk site you can purchase logo free versions of these and other pix. Stuart's site talks about the impact of his photography over 15 years.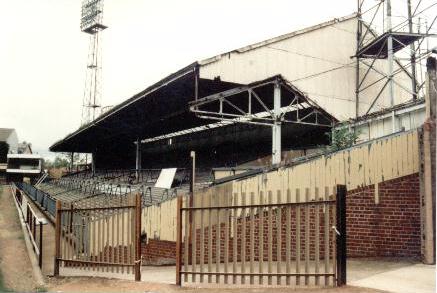 Redevelopment 2011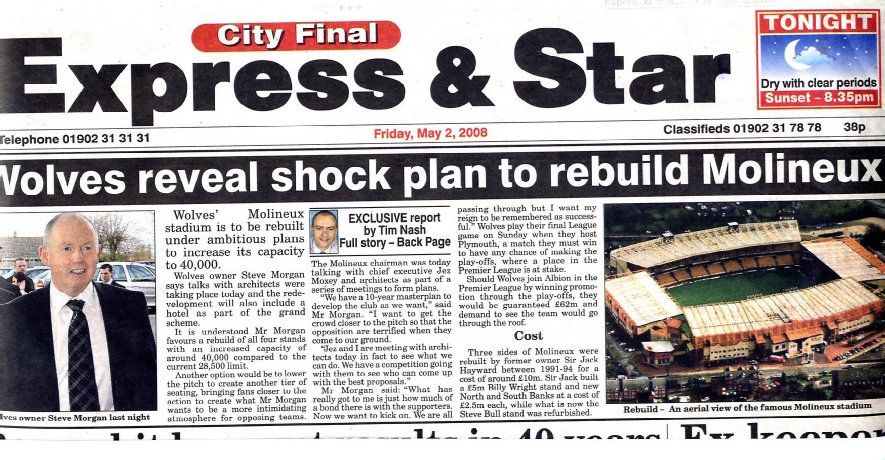 As soon as the last match of the 2010-11 Premier League season was over the North Bank was cleared an demolition started around 7.30pm. Wolves, at the Molineux Pride website http://www.molineuxpride.co.uk/wt/live_cam have sensibly provided a webcam to watch demolition progress. More information is also in the Molineux Pride website on the reconstruction as well as archive pictures.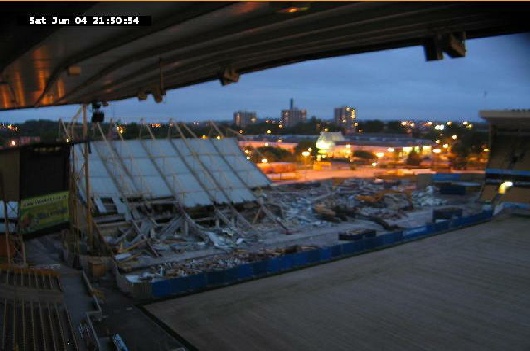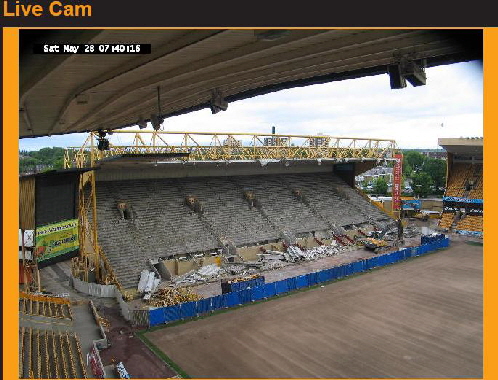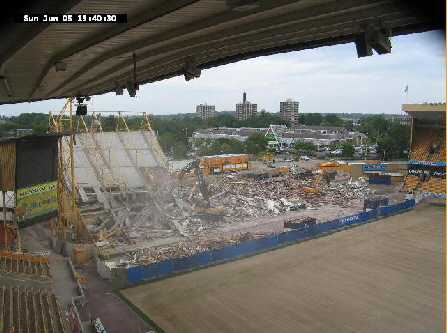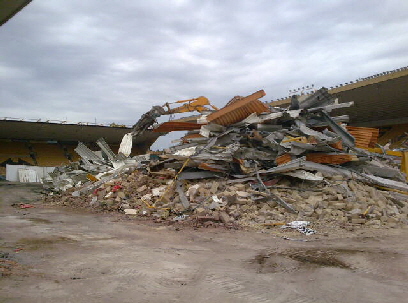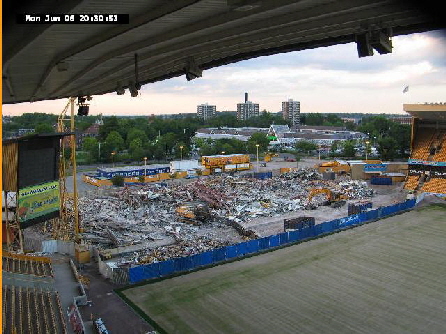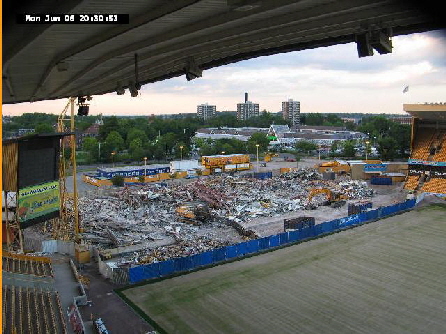 More stadium redevelopment pictures are on the archive site here