Bill McGarry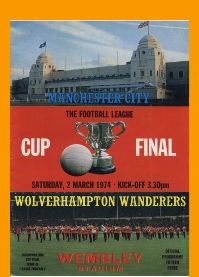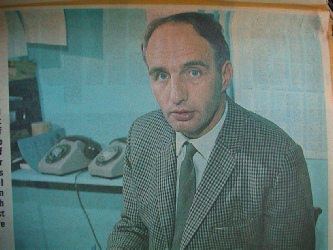 London Wolves were very sad to learn of the death of one of Wolves' most successful ever managers, the great Bill McGarry on Tuesday 15th March 2005 in South Africa. Our thoughts are with his family.
Bill took us to Wembley in 1974 for the League Cup Final where we beat Manchester City and into the final of the EUFA Cup in 1972 where we lost to Spurs. He left in 1976 after relegation. For more on those two outstanding years visit our pages on EUFA1972 and 1974. More appears in the members section 1972+ and1974+
He was twice Wolves manager - from 1968 to 1976 during the early London Wolves days, and again briefly (68 days) in 1985 before walking out on the Bhattis.
Bill was an England international, winning 4 caps, and also managed Newcastle, as well as Bournemouth, Watford and Ipswich.
here's Bill with the League Cup winning squad and congratulating keeper Gary Pierce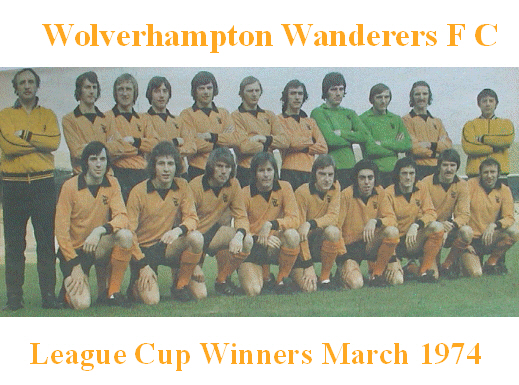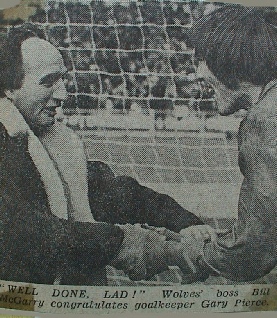 Bill's performance as manager from Wolves Stats (a great site sadly no longer available)
Record: Played 370 games won 137 drawn 104 lost 129





Season

Manager

Top Scorer

Division

Position

FA Cup

League Cup

Squad

Results

1976-77

Sammy Chung

Bill McGarry

John Richards

Division 2

1

Round 6

Round 2

1975-76

Bill McGarry

John Richards

Division 1

20

Round 6

Round 4

1974-75

Bill McGarry

Kenny Hibbitt

Division 1

12

Round 3

Round 2

1973-74

Bill McGarry

Derek Dougan

Division 1




12

Round 3

Winners

1972-73

Bill McGarry

John Richards

Division 1

5

Semi-Final

Semi-Final

1971-72

Bill McGarry

Derek Dougan

Division 1

9

Round 3

Round 2

1970-71

Bill McGarry

Bobby Gould

Division 1




4

Round 4

Round 2

1969-70

Bill McGarry

Hugh Curran

Division 1




13

Round 3

Round 4

1968-69

Bill McGarry

Derek Dougan

Division 1

16

Round 4

Round 4










Division 1 equates to the 2017 Premier League from 1992-3 and 2004-5

Diviision 2 equates to the EFL Championship from 2016













LW Archives
LW Archives