In celebration of London Wolves 50th Anniversary in 2016 Wolves Chief Executive Jez Moxey hosted 40+ members, (appropriately enough according to Chairman Earl) in the Stand Cullis Stand Wolves Museum
On the exact 50th Anniverary of our first match (Saturday 22nd October 1966-2016) Wolves again kindly hosted a groupd from WWLSC in the WV1 bar. Our sincere thanks to the Head of Communications Matt Grayson and Wolves. Pictures from guest Sue Wharton follow here
Later, after the match, the gang adjounred to the Catellani Italian Restaurant School St to be joined by Lofty and Mel here
Jez was joined by The Baroness of Wolves (Rachel Heyhoe Flint) Club Secretary, Richard Skirrow, Head of Marketing, Matt Grayson, Head of Safeguaring, Paul Richards, whom we thank for arranging this great event, Anna Perks Wolves Women Coach, Claire Hakeman Wolves Women, Steve Cullis Wolves Women Manager, and four current first team members ALFIE (Adam Le Fondre) (unfortunately due to start in the Rotherham match but picked up an injury yesterday, U21 Keeper (and Signal107 match commentator with Thommo and Mikey Burrows) Aaron McCarey, Centre Bank Ethan Ebanks-Landell and our star striker Nouha Dicko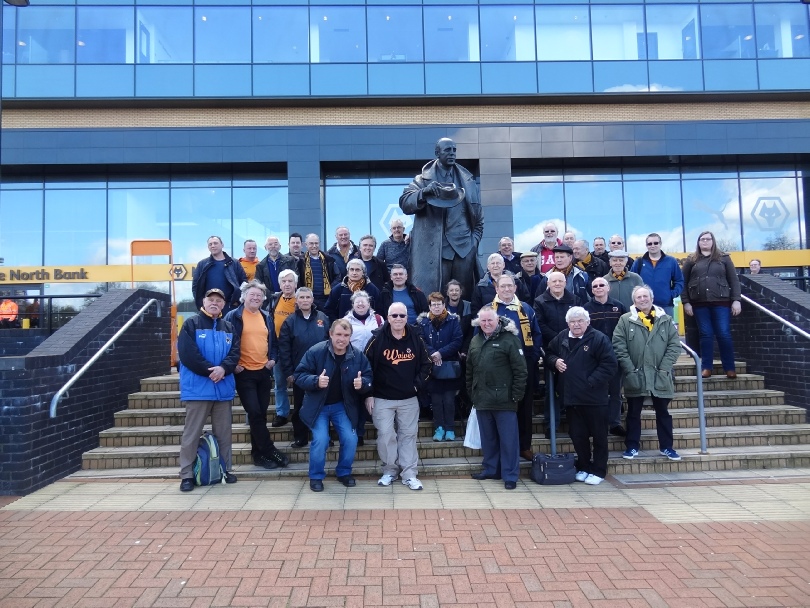 Jez presented Stuart with a souvenir showing the Rotherham Progammes frm 1966 and 2016 which will be hung in the North Bank Bar. In thanks for the reception and for 50 years of friendship with Wolverhampton Wanderers Stuart presented Jez also with a version of our player of the season trophy. Jez also welcomed us in the matchday programme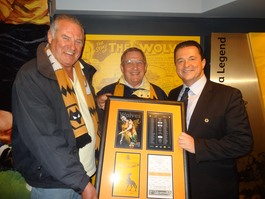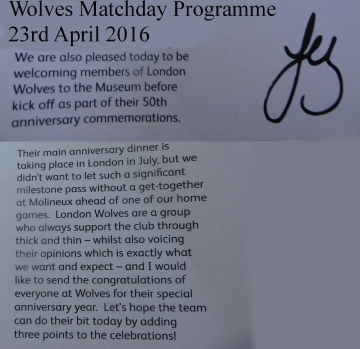 The plaques are now displayed in the North Bank Bar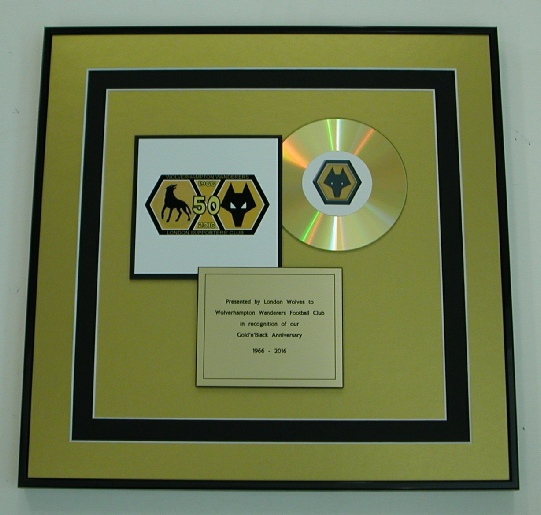 Our thanks to Aaron Nouha & Ethan for joining us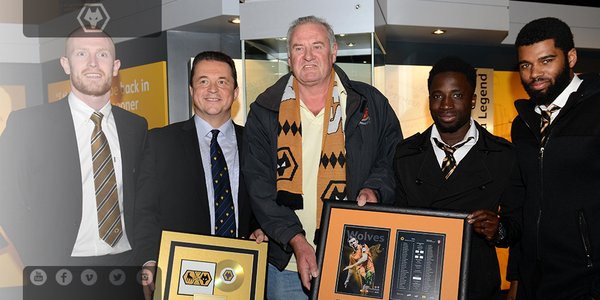 The Wolves Certificate is now housed in the North Bank Bar (Pic Peter Abbott)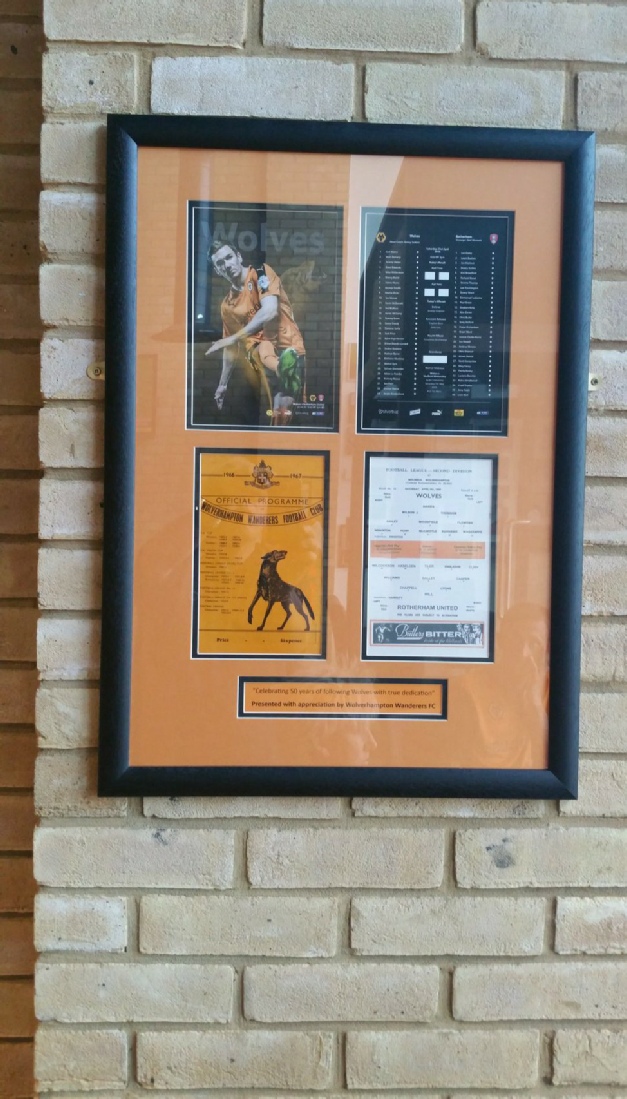 Gathering
Executive exchanges
Photos courtesy of WWFC photographer Sam Bagnall Twitter feed
SATURDAY 22nd OCTOBER (Molineux)
IN 1966 this was a 2:1 win over Plymouth Argyle. In 2016 this was a poor one-nil loss to Leeds Utd .
Our special guests, courtesy of WWFC were Mike and Barbara Bailey and Terry And Sue Wharton - Terry and Mike both played in that win over Plymouth with Ernie Hunt and Dave Woodfield scoring
- Our thanks to Sue for the pictures posted on our Facebook page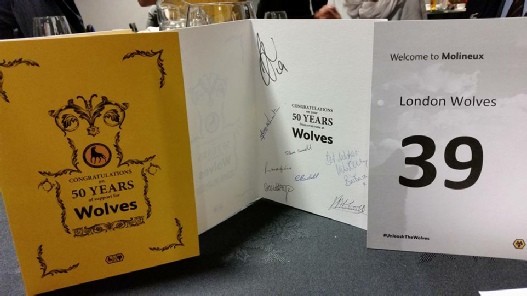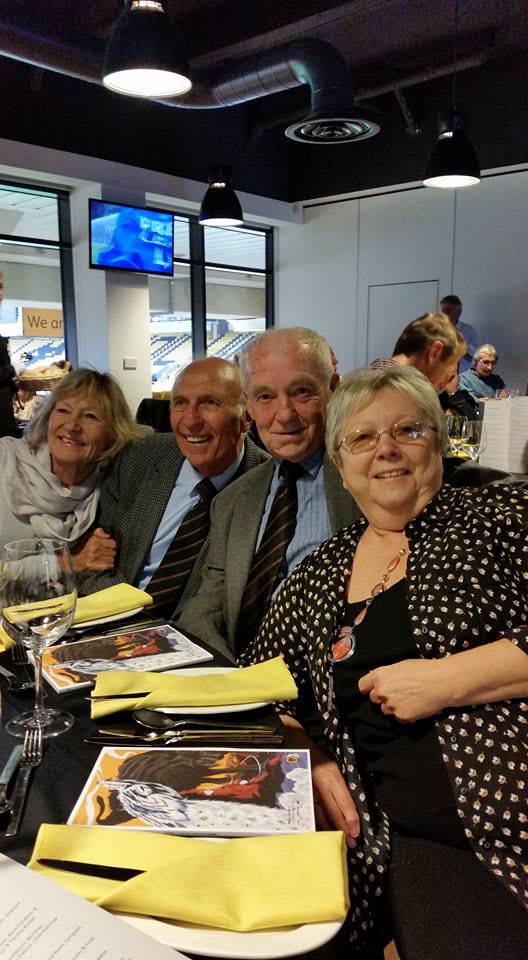 Pix from Sue Wharton
And pictures from Steve Carvell - Steve enjoyed the event and also had an email from Mike Bailey - "Apart from yesterday's result a great day. We thoroughly enjoyed the lunch - so good to meet up with London Wolves - such a friendly group. Just as we were leaving Wolves we met John Gough (Chairman) who introduced us to two of the new Chinese owners - extremely nice gents. Thanks again for your generous hospitality (coincidentally it is 50yrs since I signed for Wolves!!!) Kind regards Do hope Wolves start winning again!!
Mike"
In W V1
Pictures from Carol
SATURDAY 22nd October (evening)With Lofty and Mel Eves at the Caetellani Restaurant with Pictures from Carol