Social and entertainments secretary Roy Eagles runs the Xmas lunch party which has gone from strength to strength since he took over.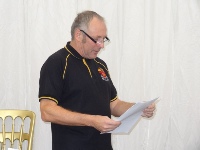 Starting with the City Bar before its refurbishment we have now moved to the BlueBrick (TableTable) restaurant off Sun Hill where Roy again welcomed star guests as friends.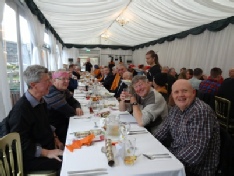 Menu 2014 Price £20 per head; please pay when booking.
You can print this page and mark your choices or download the menu here
LONDON WOLVES CHRISTMAS LUNCH.pdf
£ 20.00 Per Person. Please give your completed form with payment to Roy or Dave
Name (s) _____________________________ Phone no. ___________
STARTERS
Tomato Soup with Cream & Basil Pesto V
Prawn Cocktail served on crisp salad leaves with melted brown bread & butter
Garlic &Herb Breaded Mushrooms
served with your choice of Garlic mayonnaise, BBQ sauce, ranch or blue cheese dip
Chicken Liver Pate served with spiced apple & cranberry chutney & toasted malted bread
MAINS
8 oz Sirloin Steak served with mushrooms in a tarragon sauce & topped with a rasher of streaky bacon with skinny fries and rocket
Please select how you like your STEAK cooked rare, med rare , medium, med to well , well done
Turkey Dinner served with all the trimmings
Grilled Tilapia with Thyme & Cranberry Crumble Topping, served with minted pots & peas
Country Vegetable Pie V
served with garlic roast pots, seasoned vegetables, root vegetable mash & vegetarian gravy
Brie & Cranberry Topped Beef Burger,
served in a glazed bun with lettuce, tomato, red onions & mayonnaise, with skinny cut fries
PUDDINGS
Christmas Pudding with brandy sauce & cranberry
Profiteroles chocolate sauce & a whip
Jaffa Cake Sundae vanilla flavour chocolate ice cream mixed with jaffa cake pieces, orange & chocolate flavour sauce with whipped cream & a jaffa cake
Winter Berry Roulade with blackcurrant coulis & cream V
V=suitable for vegetarians. A child's menu is available on request