Wolves long history is reflected in a plethora of publications. Here are some of the recent books we've liked. There are more on the archive site
Carl Ikeme
Carl announced in October 2019 that he is writing a book with Paul Berry, hopes it to be inspirational, and that it shold be available for Xmas 2019.



Bitten by Wolves - Stories from the Soul of Molineux - Johnny Phillips (of Sky)
Sky and Wolves' Johnny Phillips has a book out in early October 2019. 'Bitten By Wolves - Stories from the Soul of Molineux'. Some new voices and untold stories of the club's pathway over recent decades up to present day… including WWLSC inputs Book is Available at the Wolves Megastore Waterstones, WHSmith, Amazon, etc. But Johnny is kindly offering London Wolves members a £2 Editors discount and you can order by emailing him at
johnnyphillipsmedia@gmail.com
Mark F thinks he'll even sign it for you!





'Seasons of My Life' - the Kenny Hibbitt story with a foreword by John Richards
Lifting the lid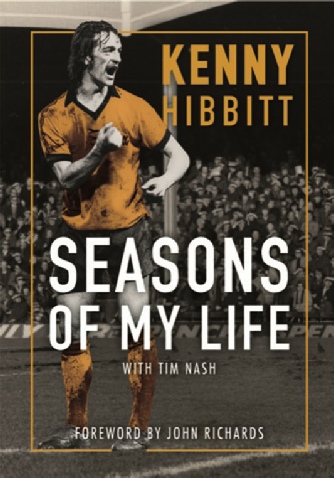 on his five decades in the game, Kenny tells of the highs of Europe and winning cups to the despair of bankruptcy at Wolves, while also revealing previously untold family heartache, and how he battled nerves throughout a playing career which was almost ended by a serious condition he coped with for 30 years before finally beating. He also talks of the brutal way his 20-year playing career ended and of his spells in coaching and management with Bristol Rovers, Walsall and Cardiff City.
"I was first asked to do a book in 1990 when I began my management career at Walsall but it didn't feel as though it was the right time back then," said Kenny. "However, now I have grandchildren, I found I wanted to give them an insight into my life and a legacy to pass on, and over the last three or four years, I have begun the process of writing my autobiography. Hopefully, fans will enjoy my story."
The book, which also features over 60 photographs - many of which have not been published before - will be priced at around £20. Available shortly after the end of the season in the club shop and other stores, the book is co-written by Tim Nash, the former long-term Wolves correspondent of the Express & Star, and contains a heartfelt tribute from lifelong Wolves fan and world-renowned rock star Robert Plant, along with a foreword by John Richards.
Snapped up by Ronnie Allen for just £5,000 from Bradford Park Avenue in November 1968, Kenny is second in Wolves' all-time appearance list with 574 games and is one of the club's best value for money signings. He also scored 114 goals for the club – including the opening goal in the 1974 final against Manchester City – won two League Cups, and was a UEFA Cup finalist, as well as helping the club to two promotions to the top flight and the Texaco Cup. Inducted into the club's Hall of Fame in 2011, he was known for his tenacity, a deadly shot in both feet and his sublime passing. He was considered one of the best players never to win a full England cap. He was the first recognised Wolves midfielder to score four goals in a game, in a 4-2 win against Newcastle in 1974-75, the season when he top scored with 17, including a club record nine penalties.
After leaving Wolves in 1984 as one of the club's longest serving post-War players, he continued his top-flight career for two more years with Coventry City before joining Bristol Rovers, where he starred as player-coach and assistant manager and helped them to promotion and a Wembley final, then progressed into management with Walsall and Cardiff City, leading both clubs into the play-offs. Now 67, he is currently one of the longest serving Premier League referees' assessors, having been appointed in 2003. He has lived with his family in the Cotswolds for over three decades.
To pre-order a copy of 'Seasons of My Life', please fill in the order form printed below.





Between the Golden Lines - by Dave Instone published April May 2018


As well as being a well-respected journalist on the Independent Dave is the author of many authoritative books on the Wolves. His latest opus looks at "the stories behind the stories" from his long, but occasionally fractious, association with the club.
Between the Golden Lines is one of the furthest-reaching books ever written about Wolverhampton Wanderers. It spans not only the author's 30-odd years in the press box in WV1 but of his dealings with numerous gold and black heroes from decades earlier, Cullis, Wright, Williams, Broadbent, Farmer, Dougan and Richards among them. ALOB editor Charles Ross tweeted "
"Known him personally for over 20 years. Journo of utmost integrity. And always accurate. I can't wait"
There is additional appetiser information at his brilliant Wolves Heroes website here


http://www.wolvesheroes.com/2018/02/26/a-book-with-a-huge-reach/
Call Dave on 07734-440095 or email him at thomaspublications@blueyonder.co.uk for more information. The book will cost £18.99 plus post and packaging, although Dave has been known to drop into London Wolves pre-match libations to hand deliver copies of his publications.








'
The Valley Wanderer' (The Mike Bailey story)
with forewords by Jim Davidson OBE and Robert Plant CBE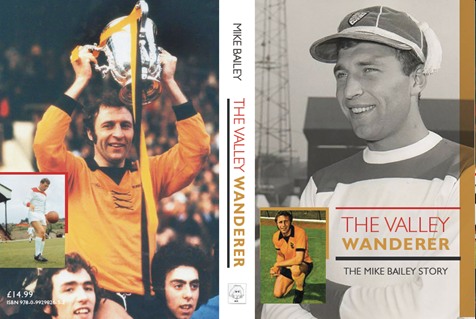 Clive Corbett is delighted to announce the availability of a new book that he has edited for Mike Bailey. Retailing at £14.99, the book will become available before the end of November. Here is an opportunity to get your copy well in time for Christmas by emailing gpbooks@hotmail.co.uk
Mike Bailey is a true son of Norfolk who turned his boyhood passion for football into an illustrious career spanning four decades. He started out at Charlton Athletic and made his first team debut in 1960. He quickly won the hearts of fans as an energetic and tough tackling midfield dynamo, and was very soon made their skipper. In 1964 Mike became the Valiants' first full England international for eleven years. A few months before England's 1966 World Cup triumph Mike signed for Wolverhampton Wanderers and in his first full season at Molineux led them back to the First Division. He was the talismanic leader who guided the swashbuckling Wolves team of the seventies to their best top flight finish to date, a first major trophy in 14 years and numerous European adventures.
In 1977 he went on to new challenges in Minneapolis in the North American Soccer League before returning home to try his hand at management. Mike set off with a short spell at Hereford United, and in the autumn of 1979 returned to The Valley. He became Charlton manager the following year and launched them to promotion from Division 3. He was then persuaded to work under Mike Bamber at Brighton and Hove Albion. Two seasons at the Goldstone Ground saw the Seagulls achieve their highest league position ever whilst Mike's team also made it to the 1982 FA Cup final. Although he later took on posts in Crete and the lower English leagues the trials and tribulations of management never really suited him.
Mike now enjoys the tranquil life and the joys of his extended family in Surrey along with his wife Barbara. 'The Valley Wanderer' tells the story of a man who was fiercely competitive on the field, and still is on the golf course, but whose laid back disposition makes him hugely well-liked by former team mates and opponents alike. Mike Bailey is a reassuringly down to earth man who is admired by all who meet him, whether they are celebrities or ordinary folk. The book is the gentle tale of a Norfolk boy who lived his dreams but always remembers his roots.
A novel by long term LW member Bobby (Punk) Smith - The Armageddon Pact

Bobby has written his second book, this one a world war II novel. More details on his Amazon site here http://www.amazon.co.uk/Bobby-Smith/e/B0034PAXNC/ref=ntt_dp_epwbk_0 which includes Bobby in a short video talking about the book. He says he mentions WW in the credits!
Bobby will be selling copies in the Wetherspoons and at Craven Cottage (29/9/2015) - if you want to order a copy or ask Bobby about the book you can contact him on bobbypunk@talktalk.net
A book containing hundreds of previously unseen photos of Wolves on their famous travels abroad goes on sale in the middle of September 2015 There may even be some grounds that Peter Abbott hasn't visited!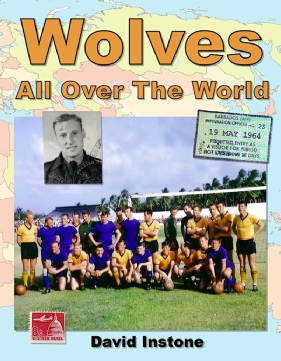 Many of the pictures, even some dating back to ground-breaking tours to South Africa in the 1950s, are in colour, with trips to Russia, Spain, the Caribbean, America and Canada also strongly featured, along with the club's various destinations in European competition.
"We're convinced it is like no other publication ever brought out about Wolves," said author David Instone. "We have worked very hard to access all kind of photographs from their games and adventures across the globe and believe we will be illustrating, for the first time, matches they have played in Israel, Kuwait, Greece, Jersey, Gibraltar and many other countries.
"We were very curious about games and tours that had little or no press coverage at the time and we have managed to dig out some information and pictures on them all. In fact we have uncovered some fixtures and trips that were overlooked in previous record books about the club.
"The emphasis has been on making it a coffee table book, with bigger pages than usual and colour imagery and stirring design on every one of them. It doesn't contain loads of text and is more concerned with anecdotes and little-known tit-bits rather than being heavy on the sort of match facts and statistics that previous publications have dealt with. Dimensions are about 25cm x 19cm
"There seems to be a lot of interest in it from supporters, which shows we have found a nice little gap in the market. Anyone who loves Wolves should like it. Anyone who loves Wolves and travelling will like it even more."
Wolves All Over The World costs £19.99. Free delivery will be arranged in the Wolverhampton and Black Country area as far as is possible. Anyone interested in learning more should email instone@blueyonder.co.uk or ring 07734-440095.
The 192-page hard-back is a chronological guide to the 30-odd countries outside Great Britain that Wolves have played in, starting with various illustrated tours they made to France in the 1930s.
By way of a change of tone, it also briefly documents many of the players the club have signed from the various nations and gives an entertaining appraisal of the success or otherwise of them.
LW member Graham Large has started a new fanzine with a focus on nostalgia. The first issue focuses on the 1974 League Cup Final and includes interviews with Wolves Captain Mike Bailey and hero of the day, Gary Pierce, amongst others. The fanzine will be printed and digital and available on subscription. Details are on the oldgoldglory.co.uk website but Graham wrote on Molineux Mix

Issue 1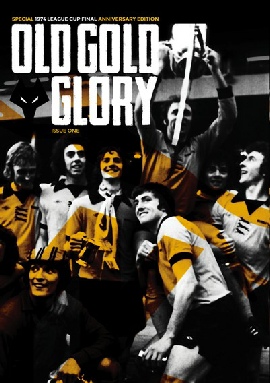 of Old Gold Glory was sent to print earlier today and will be available from Friday 29th August 2014 in both print and digital formats. The debut issue is dedicated to the 40th anniversary of Wolves' famous League Cup final victory against Manchester City and will include exclusive interviews with all nine surviving members of the 1974 side. This will be supplemented by columns written by former Wolves players Mel Eves and Gerry O'Hara, former Express & Star Wolves correspondent David Harrison and Daily Mirror Online Sports writer Alex Richards. You can purchase your print copy at Wolverhampton Books and Collectibles on Victoria Street in Wolverhampton City Centre, or you can buy both print and digital copies online at www.oldgoldglory.co.uk, where you can also subscribe for the whole season.
If you are interested in writing for Old Gold Glory, or even selling the magazine on match days, please contact graham@oldgoldglory.co.uk for further information.
Graham is offering a discount for London Wolves members:
4 issue Digital subscription (£5)

-

https://www.paypal.com/cgi-bin/webscr?cmd=_s-xclick&hosted_button_id=TK2EYVPXELAQ4

4 issue Print subscription (£9)

-

https://www.paypal.com/cgi-bin/webscr?cmd=_s-xclick&hosted_button_id=N4JAAUVBTELCS
To subscribe visit the links above
Also, if you have a great story to tell about an experience of Wolves Graham is always interested to see if you can feature in an article.
Publication date August 2014 by Dave Wagstaffe. Waggy collaborated with Frank Munro to write his biography but the work was sadly never completed as first Frank then Waggy sadly passed away.

If you want to read an appreciation of one Wolves legend by another - and do your bit for charity at the same time - how about investing in a copy of the forthcoming 'Frank's For The Memory' book?

Frank Munro played 371 competitive games for Wolves and won nine senior Scottish caps. In addition to that, his former team-mates know what a brilliant story teller he was. One of them, Dave Wagstaffe, was a big pal and faithful carer until the end, and developed the skills displayed in the writing of his own superb autobiography by also penning Frank's story in long hand!

Life-long Wolves fan Steve Gordos, himself an experienced author on Molineux matters, stepped in as editor and researcher - and their combined efforts will bear fruit when the book goes to print in mid-August.

To have your name, or that of a family member or friend, included in the subscribers in a special 'In Tribute To Frank' section at the back, all you need to do is purchase in advance. The deadline for this facility is

July 18 (extended to July 24 2014)

and the cost is £14.99 (postage, packing and distribution in the UK is free).

To reserve your copy and have your name, or that of a family member or friend in the back for posterity, please send a cheque, made payable to Thomas Publications, to them at 26 Park End, Newport, Shropshire, TF10 7JG by

July 18th 2014

. If you wish to discuss alternative methods of payment, please email David Instone (instone@blueyonder.co.uk) to do so.

An initial £2,000 is to go from the project to the Stroke Association and cancer charities, with the aim of further donations if the 208-page hard-back sells well.

Just before the London Wolevs Christmas Lunch (Dec 6 2014) Val and Steve Gordos assisted by Steve and Helen W and Colleen with Mike Bailey, Terry Wharton and Lofty presented the Stroke Association with £1,000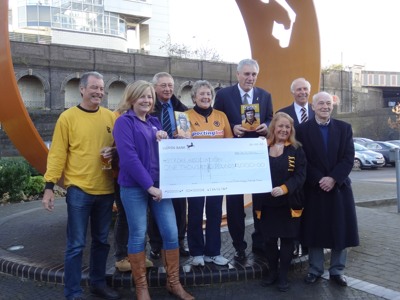 Stuart Earl has signed copies of the "The Sash He Never Wore" for sale....
A new

Doog biograph

y by respected writer David Tossell launch October 2012 "In Sunshine Or In Shadow" telling Doog's story based on Doog's own material and David's research Details to come here.
Dave Wagstaff

e - "Waggy's Tales" here
Ernie Hunt

- "Joker in the Pack" here
"Match of My Life - Wolves

" (various players) by Simon Lowe here
"Those were the days"

by Clive Corbett here
"The Complete Record"

by Tony Matthews (updated by Dave Instone) here
Wolves in 20:20 Vision by our very own Jim Heath here
Out of Darkness - Clive Corbett continues into the Bully times here
The History of Darlaston FC including one-time manager manager Terry Wharton here
Dirty Northern B*st*rds and other Tales from the Terraces'
A great new book of fan chants – back as far as Elgar and a freebie against the tractor boys from the author. The book is available printed or digital
and you can win a copy too - here's the competition page link -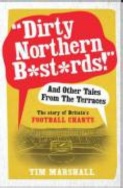 Tim Marshall is the Foreign News Editor for Sky News and wrote to us
WOLVES
Things are looking up. You got rid of, Hard To Sing His Name - Michael Ihiekwe, and brought in, Massive Potential For A Good Chant - Rajiv van La Parra. Mid table respectability beckons.
I'm glad you held on to Nouha Dicko and Bakaray Sako because the song for them is tops, even if you did steal it from Man City and their legendary Toure brothers chant.
Then again, apart from Sunderland, all football fans are magpies. You're allowed to nick songs. We all do it. Last season Brentford nicked 'Knees Up Mother Brown'. They were already promoted and news came through of Fulham's relegation. Up went the song - 'Bees up - Fulham down'. Genius in short form.
I'm confident Wolves fans will rise to challenge of the 2014/15 season. While researching my book 'Dirty Northern Bastards' I came across many a top chant from Molineux including references to bus stops in Aston, Tesco carrier bags, and the idea that West Bromwich is not the ideal place to live despite its local amenities and proximity to travel routes including the M5.
Wolves get a few mentions in the book but mostly due to the chant written by one of your most famous fans – Edward Elgar. His 'He banged the leather for goal' never went down as well as the tune to Land of Hope and Glory (which he also wrote) but it did provide me with the image of Elgar, chest puffed out, standing on a stanchion and leading the South Bank in a chant of 'Who art thou?'
In 1898 the Times were a bit sniffy about the song writing that 'the melody may be complex for the Grandstand' which is a bloody cheek seeing as I've heard you on the telly getting your tonsils round Verdi's 'La donna e mobile' from Rigoletto with 'Your ground too big for you'.
But what's with the 'We all f*cking hate Leeds!' and 'We all hate Leeds scum!' songs? Given that a favourite Leeds song is 'We're Leeds United – we don't give a f*ck' it's not a problem you singing that – it's just -why do you care so much?
Anyway, welcome back to the Championship, which as we know, is the new Premiership. As you're back you get to play Ipswich again – so here's one for free. If their keeper, Dean Gerken, lets one in in an embarrassing manner, you may well wish to further embarrass him with 'Stayed in a burger, you should have stayed in a burger'.
Tim Marshall's' Dirty Northern Bastards and other Tales from the Terraces' is on sale now
http://www.amazon.co.uk/22Dirty-Northern-Bastards-Other-Terraces/dp/1783960604
@itwitius, @eandtbooks
And there is a good overview of the book on the Waterstones site here http://www.waterstones.com/blog/2014/08/songs-from-the-sideline/#more-59741
A new book The Sherpa Van Trophy - WEMBLEY WOLVES
Tim's Book has now been published - available from Saturday December 6th Tim has also kindly donated a copy for our Xmas raffle
The book is available to buy directly from his website or from Wolverhampton Books & Collectables, 19 Victoria Street, Wolverhampton.
Wembley Wolves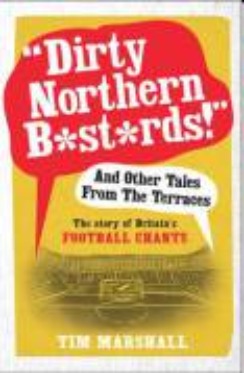 This new Wolves book by Tim Gibbons, follows the story behind the Sherpa Van Trophy success of 1988.
The book contains 163 pages featuring details about how Wolves reached the final, the build-up to the final, supporters' stories and photographs from the final, player profiles of both teams in the final, and a look to where the players are now with interviews from many of the players and management team and much more!
The book is available from 6th December 2014 and can be ordered from the authors website for £9.99 (plus postage/packaging costs). All books will be signed and dedicated (if asked).
http://sherpawolves.wix.com/1988
Tim wrote earlier
Hi
I writing a book from a fans view of Wolves' Sherpa Van Trophy final success, the book will be self-published and will contain views from fans, funny stories, fans photos and a section detailing the players that were involved in the final.
From looking on your website, I was noticed that you promoted the Sherpa Van reunion dinner held at Molineux on 25th September 2008. Do you have any photographs from the event, that could be used in my book. Ideally a photograph showing all the players at the event or similar.
I would give acknowledgement in the book to who has provided the photographs and a link to your website within the book.
I would also welcome any stories/memories that London wolves supporters have of the game/day.
If you are interested in more information on the book, please visit my website dedicated to the book http://sherpawolves.wix.com/1988
Best wishes,
Tim Gibbons
Please contact Tim directly at sherpawolves@outlook.com if you can help with memories / pictures of the final.
Tim's Book has now been published - available from Saturday December 6th
The book is available to buy directly from my website or from Wolverhampton Books & Collectables, 19 Victoria Street, Wolverhampton.
New Wolves- Wembley Wolves
This new Wolves book by Tim Gibbons, follows the story behind the Sherpa Van Trophy success of 1988.
The book contains 163 pages featuring details about how Wolves reached the final, the build-up to the final, supporters' stories and photographs from the final, player profiles of both teams in the final, and a look to where the players are now with interviews from many of the players and management team and much more!
The book is available from 6th December 2014 and can be ordered from the authors website for £9.99 (plus postage/packaging costs). All books will be signed and dedicated (if asked).
http://sherpawolves.wix.com/1988